Bird Curatorial Manual | Accessioning Birds

The Accession Catalog is shared by all MVZ collections. The act of accessioning acknowledges acceptance of the specimens and responsibility for their proper care and disposition thereafter. Once specimens are accessioned into the MVZ, they become property of the Regents of the University of California. No specimens are accepted for accessioning without proper permit documentation.
Bird specimens may be accessioned at the time of receipt or at a later date. Salvaged birds are accessioned within the year that they are received, for permit reporting purposes. Accessions received through field expeditions or student research may be accessioned at the time of receipt or when they are ready for cataloging.
Accessioning is done by the Staff Curator of Birds, often working with the Museum Scientist in charge of the MVZ Prep Lab to ensure that specimens received through salvage or gifts are also recorded on the Prep Lab freezer inventory or prep log.
A unique, consecutive accession number is assigned to each lot of new specimens. An accession may consist of a single specimen or a series of specimens that share a common event (i.e., received from the same donor(s) on the same date). All specimens from a field trip or completed field project receive the same number.
Historically, specimens from two or more vertebrate groups that were received together through a shared event (e.g., field expedition) were assigned a single accession number. Although that practice still occurs occasionally, it is more common for specimens from each taxonomic group to be accessioned separately. Different accessions for a single expedition should be linked together through projects in Arctos.
Accession numbers are assigned simultaneously in Arctos and on a pre-numbered accession card. Information about the accession information is filled out as completely as possible when the accession is created, but can also be updated or edited later.
Accessioning Birds: Step-by-Step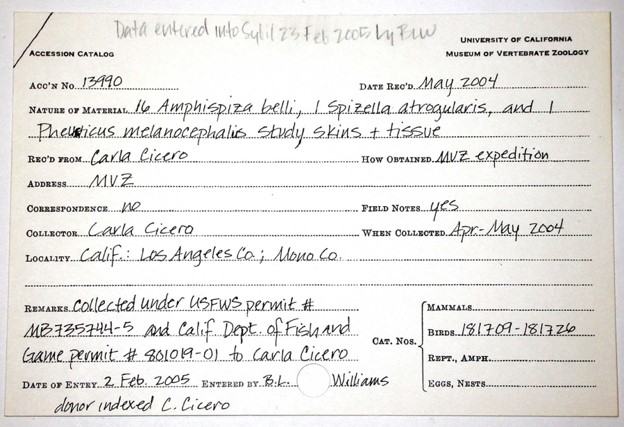 INSTRUCTIONS FOR DATA ENTRY FIELDS
Do not remove completed accession cards from the file. Recently filled out cards should be filed promptly. If removing an accession card is necessary, place a photocopy of the accession card or a sheet of paper bearing the accession number into the file, as well as the name of person from whom specimens were received and date of receipt with the specimens as an aid to later curatorial work.
Once an accession is created, enter the accession number, date received, donor, number of specimens, general nature of the material, and status (e.g., need to prep, ready to catalog) into the Google doc entitled "log – newbirdaccns." This file is located in the shared drive: MVZCuratorialWorkingDocs\Bird Curatorial\Logs and Inventories (in the worksheet labeled "Bird Accns-Progress")