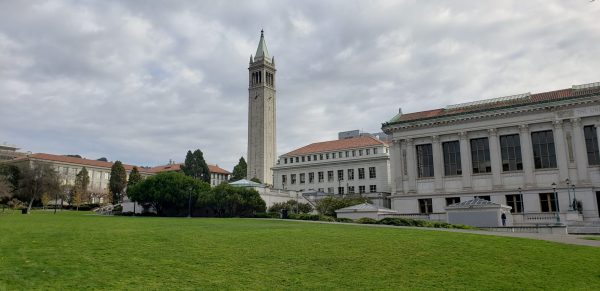 The 4.0 hill and the cursed seals of UC Berkeley. Legend has it that if you step on any of the UC Berkeley seals around campus you will have bad luck. Alternatively, if you want good luck you can roll down 4.0 hill or rub (or kiss if you're really desperate) the 4.0 ball outside the Campanile. Find this and some other unusual UC Berkeley traditions here .
Cal offers free food on campus for those who need it. The Berkeley Food Pantry  website has information on how they operate, their hours, and how to visit as well as history and facts about how and why they  operate.
If you are hungry but don't want to leave your office or lab, check out the Kiwibot delivery service  – small square robots roaming around campus making food deliveries.
Students only: If you're having problems with your computer – slow, acting up, viruses – you can get free tech support, just like geek squad, but absolutely free in Moffitt Library. Check out their website here .
There are several places on campus you can go if you need a nap or just some quiet time. This is the real deal too, not a bench with your backpack as a pillow, but actual sleeping stations. Check out locations here .
Here is a news story on Berkeley sleep pods .
Pet Hugs! UC Berkeley sponsors pet hugs for students. They bring animals from the Animal Rescue Foundation once a month to campus for students to love.
Greater Good: Science Center  on campus. Their job is to make your life a little easier by incorporating science-based insights for a meaningful life.
Last updated November 2018. Thank you to MVZ Volunteer Kaleigh Sahlin for compiling these resources for the MVZ Community!