General Computer & Network Support:
Billy Dunaway, Computer Resource Specialist
willdun[at]berkeley.edu, 510-388-9169
IT Infrastructure, GIS, & Informatics Resources:
Michelle Koo, Biodiversity Informatics Staff Curator
mkoo[at]berkeley.edu, 510-642-8547
Jump to Section: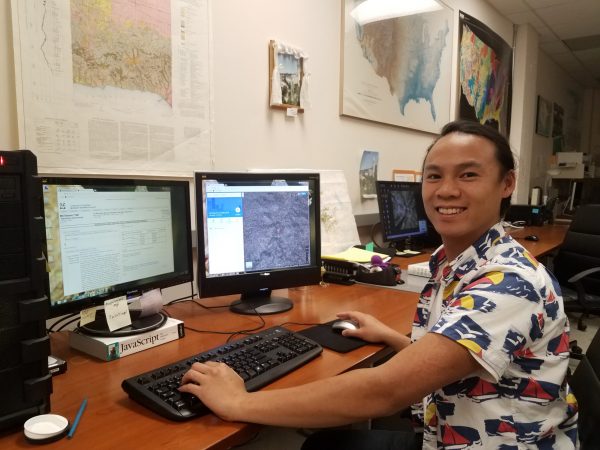 MVZ will help support your PC or Mac desktop for general computing and network issues in the museum. We
do not
support personal laptops or desktops at home.
Intranet & Backups
The MVZ has an intranet ('gromit') attached to a RAID running OS X for curatorial and research use. Each researcher can request an intranet account with home directory storage starting at 10 GB. More can be allotted as needed. We strongly encourage you to have an intranet account to which local backups (either laptops or desktops) can be automated for data storage and security. Consult Billy Dunaway for help in setting up backup for your data.
Collaborative Use of Server
The MVZ network has an open shared directory called the 'public drop box' to facilitate large file sharing in collaborative projects (\\gromit.mvz.berkeley.edu\Public Drop\). Here, any user can create a directory, upload their files (limit 100GB) for anyone else to access. We ask that the directory name has a contact name and/or date attached for identification (e.g. \Koo-California_basemaps-15mar). Remember that anything uploaded here is viewable by other MVZ users and the directory will be periodically cleaned of all data (i.e., data is temporary; no unique files here!). Notice will, of course, precede public drop box purging.
Printers
MVZ has several high-throughput, networked laser printers (b/w and color, some duplex) throughout the museum and 4th floor DNA lab for general use (with a few dedicated to curatorial use). We ask that you refrain from printing black and white text to the color printers, and in general be considerate in your use of toner and paper. No personal printing (e.g., flyers for garage sales) is allowed. Please contact Billy Dunaway if you encounter low toner levels.
Desktop Software
UC Berkeley offers many free or discounted software (e.g., Adobe Creative Suite, MS Office, VPN, etc.) for staff and students. Visit Software @ Berkeley for a list of eligible programs.
Cloud Storage Resources
Visit the bConnected website to sign up for Google Drive and Berkeley Box accounts for cloud storage and file collaborations. Free with your Berkeley email address!
GIS & Informatics Resources
ESRI Software
The Berkeley Natural History Museum (BNHM) Consortium has a generous arrangement with ESRI for software donations of ArcGIS 10.x. This GIS application can be installed on your MVZ workstations for research and fieldwork. We use the campus license manager for authentication, so a networked desktop is recommended. There are limited options to work around the network requirement if needed.
For your laptop, we recommend a one-year standalone installation. These are not tethered to the campus license manager.
For Mac Users: We recommend Quantum GIS, an open source, cross-platform GIS application.
GIS Tutorials, Data and Application Tools
The MVZ GIS Portal is a good starting point and is constantly evolving. Check here for tutorial materials to download or links to helpful sites and data sources.
Ready-to-use ArcGIS files and data (.mxd files) will be available on the MVZ network at \\gromit.mvz.berkeley.edu\gisdataportal\
EX. California hydrology map template is ready for your data and customization. Copy the Zip file or entire folder named CA_hydro (to retain internal file structure); if you already have ArcGIS 9 or 10 installed, double-click the file "CA_major hydro.mxd" to access.
On an entirely irregular basis, there are also Workshops on technical topics mainly concerning R, GIS and its research applications. The handouts are posted on the website (examples below):
Using Google Earth & Google Earth Pro at MVZ
Beginner's ArcGIS 10
Cartography Using ArcGIS 9, 10
Species Distribution Modeling workshop handouts are also available with more content pending.
Every semester, GIS Clinics may be held in the GML where you can bring questions, problems, and data for consultation by Michelle Koo. Demos of useful tools, info are also given. Watch out for emailed notices!
We also have various GitHub sites for informatics projects, workshops and service